Hunting Pigs and Deer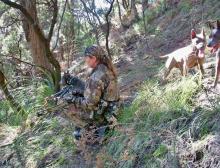 My partner and I both hunt deer, over the last month I've also taken up pig hunting with (Sendai) whose the first of our crossbred pups to start hunting.
Although Mika and Echo are our deer dogs they have bailed pigs for us in the past, I'm using them to help get started pig hunting.  I'm now addicted to it and can't wait until we get our first pig.  We also have another bitch pup we will start on pigs later in the year, slowly adding our new line of dogs to my pig hunting pack so Mika and Echo can go back to doing what they do best, hunting deer.
Sendai (Thai Ridgeback X) is the Grand Daughter of Mika (Kelpie X) and daughter of Echo (Blue Heeler X Huntaway X Kelpie
30X30 Sambar Stag shot 2006 (Douglas Score 211 6/8) - Dogs are Mika at 4yrs and son Cash 1yr old
We had known about this stag for a few years prior to the day we got him.  Before we started using Mika as a deer indicating dog, she was just a house pet who spent her days chasing rabbits.  We started taking her for bush walks and noticed she was tracking deer, this is when we decided to start training her solely for deer hunting, she became our top deer dog and still is to this day.
Mika is BlueStone Kennels foundation dog, we had never used dogs for hunting prior, now we won't hunt without them.  Since using dogs to track shot deer, we have had a 100% success rate in finding lost deer.
This brings me back to the day we got our Trophy Sambar above.  Mika had indicated this stag several times before this day but we were never able to actually see him.  This day was different, once my partner Jeremy had him in his sites he got buck fever, I'm standing there saying, shoot him, hurry up, he's going to go.  Finally Jeremy got the shot away and the stag leaped into the thick scrub.  We heard the hit and thought, that sounded good but after looking around for him we couldn't find where he was, we spent many hours looking for him to no avail.  
I said to Jeremy I'm going to follow Mika and Cash, their not interested in looking were we are.  Jeremy had no confidence in the dogs finding this stag but I did.  Since the dogs were new to finding deer for us Jeremy decided to keep looking down his sidling while I set off.  After 5 minutes or so I noticed the dogs sniffing around a lot under a tree, I had to go and have a look.  There it was the first sign of blood, yes I thought, their tracking him.  Then we came across a second blood spot some 10 minutes later, I was starting to think, this stag must be still alive and will we catch up to him or will he have us running around in circles.  We ended up crossing a swamp then back into the thick of the bush, still no stag.
Then all of a sudden I hear Mika and Cash barking, off I go at a brisk walk then I see this stag still alive and very angry jammed up against a natural barrier of fallen trees.  I called the dogs off and smartly walked the 20 minute walk all the way back to Jeremy to tell him we'd found the monster.
Jeremy was shocked, you found him, yep I said and off we went.  By the time we got back, this stag was on his last legs, Jeremy quickly put another shot in and there it was, a trophy of a life time.  We never would have found him without our dogs, he wasn't even close to where we were looking, it would have been just another story of a trophy shot and lost.
This Stag now hangs on our wall 
Keep watching this page for updates on our hunting trips